Since 1998, I have been performing with my unique unicycle act that features a remarkably tall unicycle with a small wheel.
My father, who is an engineer and machinist, has been the mastermind behind all my unicycles. Whenever I had an idea, I would share it with my dad, and he would build me exactly what I needed in a matter of days. His expertise has been an essential part of my training and performances. When I first started performing with a tall unicycle, he suggested the idea of a tall unicycle with a small wheel, as I already had a tall unicycle with a regular-size wheel.
Many people have marveled at the unconventional design of my unicycle and suggested that it should be featured in the Guinness World Records book. "Why aren't you setting a world record with it? Make it official!" they would ask.
Years later, after numerous comments like these, I stumbled upon unicycle world records while researching on the internet. Among many impressive records, the tallest unicycle ride record by Sam Abrahams and Peter Rosendahl's smallest unicycle ride record stood out to me. This inspired me to attempt to set the record for the "Tallest unicycle with the smallest wheel".
Finally, I decided to apply for the record, and after a period of waiting, I received the guidelines and the final record title which GWR renamed "Tallest Ridable Unicycle".
Tallest Ridable Unicycle
In 2013, I set the Guinness World Record for the tallest ridable unicycle, reaching a height of 3.08 meters.
The unicycle for this attempt was my performance unicycle but I added one section and made it a little taller.
Photos by Sona Kocharyan | imyerevan.com
I broke my own record in 2015 by just doubling the height of my unicycle, reaching a height of 6.0 meters.
For this attempt, my father and I built a custom unicycle specifically designed for the purpose.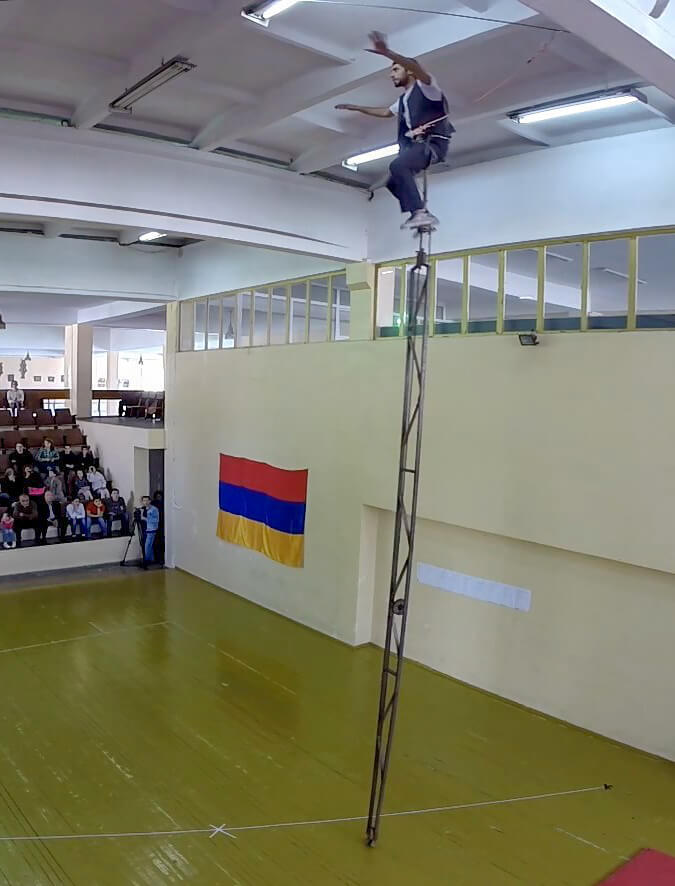 I rode this unicycle only 3 times, 2 times training the day before the official attempt and 1 time at the attempt.
As you can see in the video, it wasn't even painted – I wanted it to be as simple as possible. This unicycle was built solely for this purpose.
However, this record was later broken in 2020.
From the unicycle community, some people called this record not valid, addressing Sam Abrahams's 35m record (but I still have the official certificates), I was explaining how the GWR renamed and accepted this record. I was believing that my record was accepted only because of the wheel size of 83mm because Sam's record was already existing.
Wesley Williams broke my record on a unicycle with a normal size wheel (20″ I guess) but was shorter than Sam's unicycle.
This is a situation that is not clear, I guess also for the same people from the unicycle community.
While I no longer hold the world record for the tallest ridable unicycle, I am proud to have been a part of the unicycling community and to have pushed the limits of what is possible.
My first record in 2013 was printed in the 2016 edition GWR book, if you have any chance to check the book you can find my picture on page 160.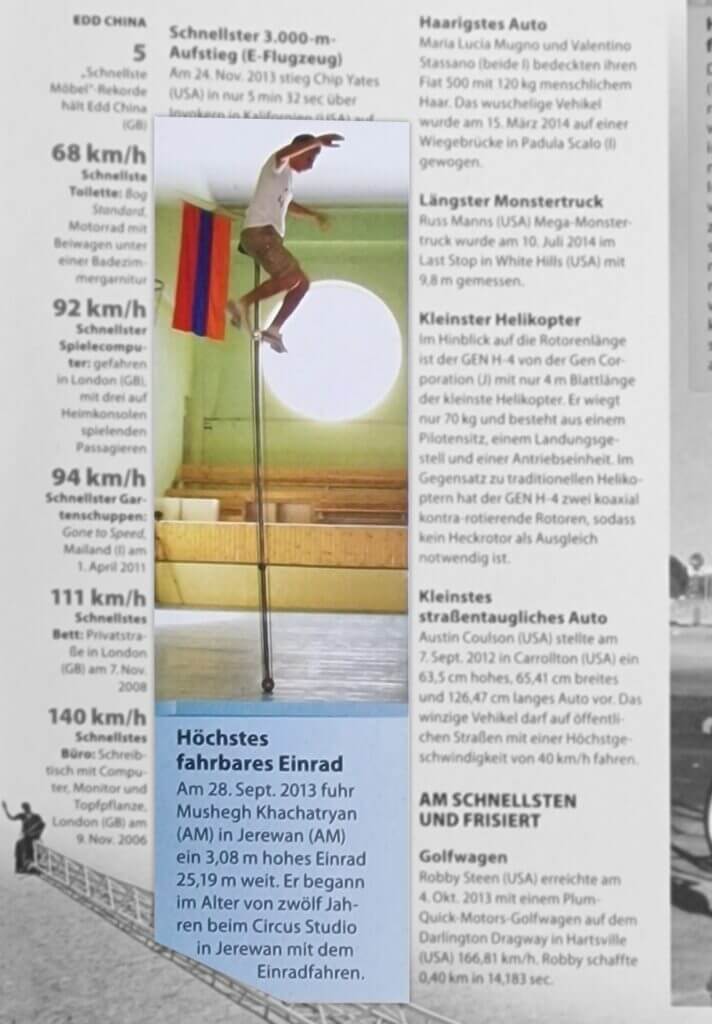 What's next?
I am always looking for new challenges and opportunities to push myself. I currently have my eye on a few other Guinness World Records and am excited to see where my unicycling journey takes me next.
While these achievements are certainly highlights of my career, I am always looking for new challenges and ways to push myself even further. Thank you for visiting my website and for supporting me in my journey towards new heights.